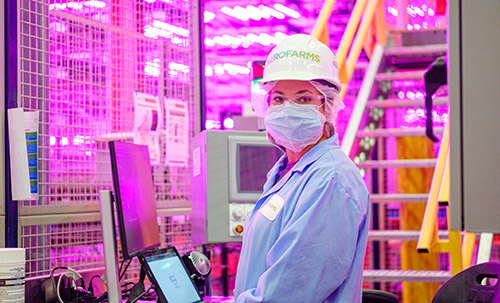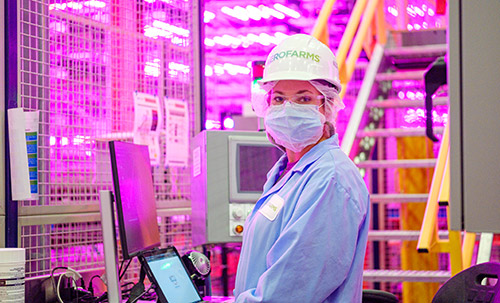 Editor's Note: This article was paid for and written by the Virginia Economic Development Partnership and approved by Area Development.
Increasing consumer demand for safe, sustainable, locally grown food is driving interest and investment in controlled environment agriculture (CEA), with a particular focus on vertical farming. Once a niche industry hamstrung by high energy costs, vertical farming has benefited from the widespread availability of cost-effective LED lighting, allowing growers to deliver the exact environmental conditions required by specific plants. Vertical farming allows for year-round growth of clean produce anywhere in the world with unprecedented yield and peak season quality. The process protects plants from disease and stress while providing ideal growing conditions for high-quality, quick-to-harvest crops.
The Virginia Advantage
Virginia's advantages for CEA companies start with its strategic mid-Atlantic location and infrastructure, ensuring quick access to major consumer markets in an industry where freshness and speed to market are paramount. Virginia also offers access to plentiful natural resources, competitively priced electricity, a skilled talent pipeline, and exceptional partners like the Controlled Environment Agriculture Innovation Center (CEA-IC), a joint project between Virginia Tech and the Institute for Advanced Learning and Research (IALR) focused on diversifying agribusiness in southern Virginia and increasing net farm income and profitability for both existing and new farmers.
Virginia provides the ideal home for CEA companies with a diverse ecosystem of partners and suppliers, outstanding universities and research centers, and access to supply chains. That's why San Francisco-based Plenty Unlimited Inc. is building the world's largest indoor farming campus in Chesterfield County outside Richmond, representing a $300 million investment and more than 300 jobs. The first farm at the site will be completed in 2024 and will focus on Driscoll's strawberry production — the first to grow indoor, vertically farmed strawberries at scale.
"This campus will raise the bar on what indoor vertical farming can deliver," said Plenty CEO Arama Kukutai. "The scale and sophistication of what we're building here in Virginia will make it possible to economically grow a variety of produce with superior quality and flavor. We look forward to continuing to work in close partnership with the government of Virginia as we endeavor to rewrite the rules of agriculture."
Virginia provides the ideal home for CEA companies with a diverse ecosystem of partners and suppliers, outstanding universities and research centers, and access to supply chains. Poised for Growth
Plenty is just one of the companies betting on Virginia as the prime location for CEA operations. New Jersey-based AeroFarms chose Cane Creek Centre, an industrial park jointly owned by the city of Danville and Pittsylvania County, to build its largest, most sophisticated indoor vertical farm to date. Like all AeroFarms facilities, the Cane Creek location uses the company's proprietary aeroponic technology to produce leafy greens at a rate 390 times more productive than field growing. The facility helps the company fulfill its production partnerships with major retailers like Amazon Fresh, Fresh Direct, Walmart, and Whole Foods Market.
Beanstalk, an indoor farming startup, chose the town of Herndon in Fairfax County for its first farm, which produces a variety of pesticide-free leafy greens and specialty herbs year-round using proprietary hydroponic growing technology. Other CEA companies to invest in Virginia include Greenswell Growers, which produces leafy greens year-round at its Goochland County facility and has partnered with Goochland High School's Career and Technical Education Center to create learning opportunities for students, and Red Sun Farms, which derives more than 75% of the water used at its Pulaski County facility from collected rainwater. Richmond-based Babylon Micro-Farms manufactures self-contained, hydroponic vertical farm systems, operated using a cloud-based management program, for use in businesses, schools, hospitals, and other locations.
With population growth and climate impacts placing stress on traditional agriculture, vertical farms and other CEA operations are poised to gain prominence as a major element of food production. Virginia's combination of location, industry knowledge, affordable utilities, and innovative research and development make the Commonwealth an ideal location for growth — for crops and companies alike.
Virginia Economic Development Partnership