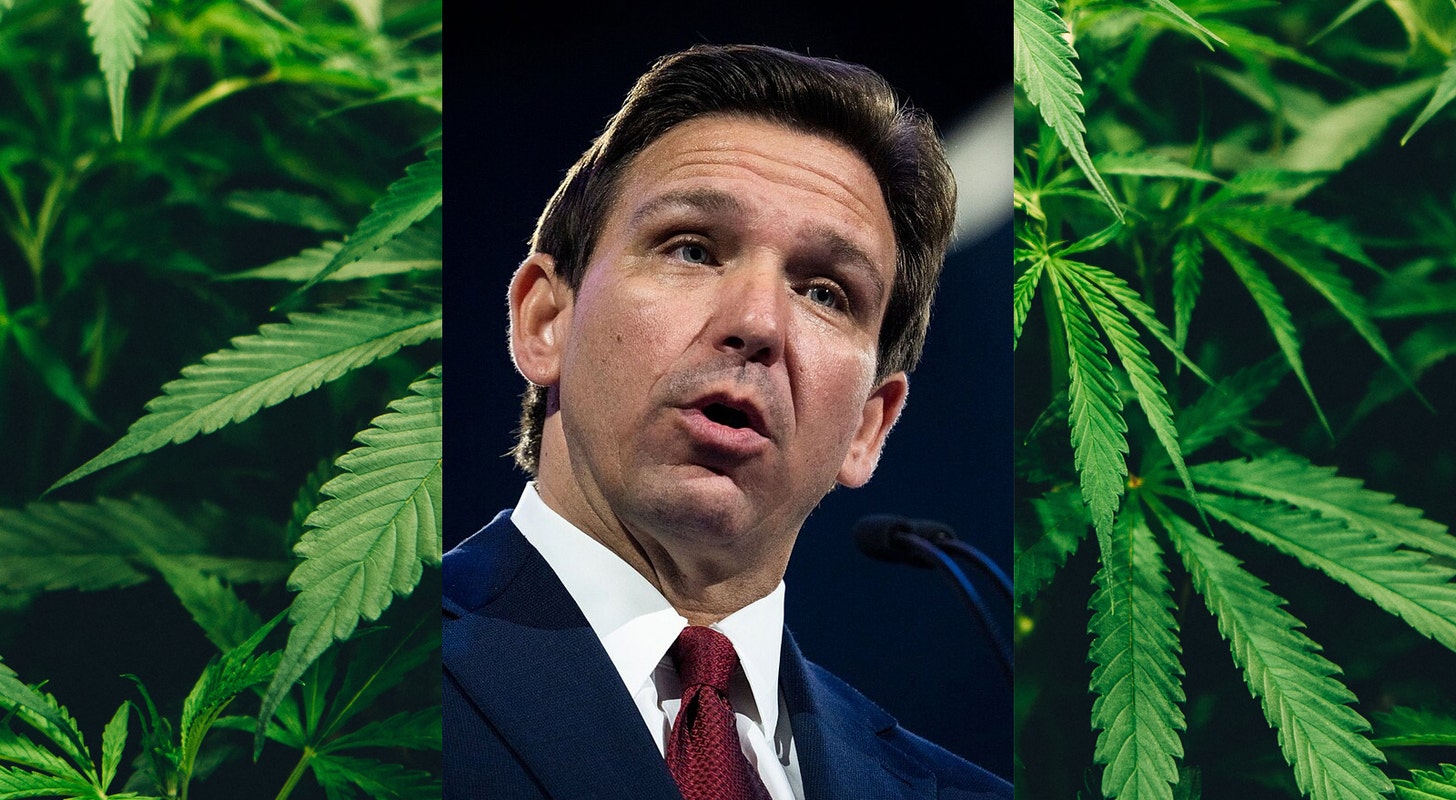 DeSantis Cracks Down On Hemp Products Packaged To Look Like Candy, Bans Them For People Under 21
As of Saturday, hemp-derived products cannot be sold to Floridians under 21, according to the bill Gov. Ron DeSantis (R) recently signed, reported Marijuana Moment.
The measure from Sen. Colleen Burton (R) also requires hemp product packaging not to be "attractive to children."
The bill imposes sanctions on companies that promote hemp in a manner that might attract children while also prohibiting the sale of products resembling candy or crafted in forms reminiscent of human beings, cartoons or animals.
It also bans the sale of hemp extract "including, but not limited to, snuff, chewing gum, and other smokeless products" to those under 21.
Initially, SB 1676 sought to limit the THC dosage of hemp-derived products. Those selling hemp products raised concerns earlier regarding restricting THC levels in hemp items to a mere 2mg per package, reported Fox 13 News.
U.S. Marine Corps Veteran Pablo Bicca who suffers from PTSD following his service, explained why he needs more potent doses to manage the symptoms.
"I need about 100 to 200 milligrams a day just to keep with the pain and the mental health," he said. "So doing something that's two milligrams is not going to help me."
Hemp entrepreneurs advocated against the THC cap at the state Capitol this past April, resulting in proposals being amended.
Meanwhile, in June, DeSantis approved a measure under which medical marijuana patients can use telehealth to renew their physician approvals. The bill (HB 387) also helps Black farmers get valuable medical marijuana licenses after years of delays.
Statewide Medical Marijuana Yes, No To Federal Policy ChangeWhile DeSantis is open to normalizing medical cannabis use within Florida, his agenda on marijuana policy change on the federal level is another story.
During a presidential campaign event in Augusta, South Carolina, the GOP candidate for president said he doesn't support the federal decriminalization of cannabis.
"I don't think we would do that," DeSantis responded to a voter who asked him in the name of injured veterans to "please decriminalize marijuana in 2025."
"But what I have done in Florida is we have a medical program through our Constitution that the voters did," DeSantis said. "Veterans in those situations in Florida are actually allowed access — it's very controversial because obviously there are some people that abuse it and are using it recreationally."
The Benzinga Cannabis Capital Conference, the place where deals get done, is returning to Chicago this Sept 27-28 for its 17th edition. Get your tickets today before prices increase and secure a spot at the epicenter of cannabis investment and branding.
Photo: Benzinga edit of image by Matthew Brodeur on Unsplash and Wikimedia Commons
© 2023 Benzinga.com. Benzinga does not provide investment advice. All rights reserved.