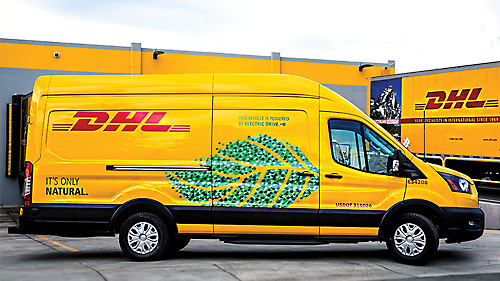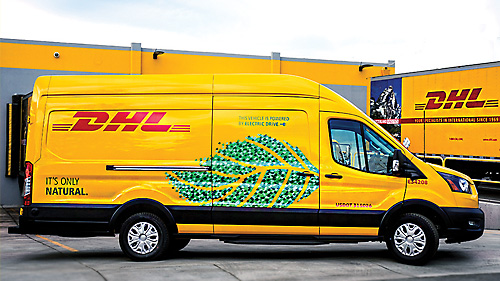 On the subject of electric vehicles, or EVs, a few facts often surprise the average person. First of all, they're not new. The first commercially available electric cars were on the road in the late 19th century, and as many as a third of the vehicles on the road in 1900 were electric. Second stunning fact: by the 1930s EVs were pretty much gone, after oil prices dropped and the Ford Model T made internal combustion accessible and affordable.

Skipping over a century of gas-guzzling, the present-day surprise is just how fast EVs are finally driving back into the mainstream. The first Prius hybrid arrived around 1997, the first Tesla Roadster EV a decade or so later. By 2030, it's expected that 10 percent to 15 percent of commercial and passenger fleets will be electric, and General Motors expects its products to be pretty much all-electric by 2035, among other manufacturers making dramatic shifts to EVs.

The Costs Savings
No surprise, then, that many companies are transitioning their fleets to electric vehicles. "Electric vehicles offer significant reputational benefits, fuel and maintenance cost savings, support toward meeting corporate climate goals, and safety benefits as well," says Sara Forni, director, Clean Vehicles, with the sustainability nonprofit Ceres, which three years ago launched a Corporate Electric Vehicle Alliance of nearly three dozen companies committed to accelerating the deployment of EVs, starting with their own fleets.

"Electric vehicles are far simpler mechanically and have fewer moving parts than traditional internal combustion engine vehicles, which makes them cheaper to maintain and repair," Forni says. "On top of that, electricity offers better price and supply stability than petroleum, given its more local and increasingly renewable sourcing."

She notes that Consumer Reports studied cost differences last year and tallied significant savings. At the time of the study (using the national average gas price at the time of $4.31 a gallon), the potential savings for going electric was between $1,800 and $2,600 in operating and maintenance costs per vehicle for every 15,000 miles driven. That difference obviously varies as gas prices rise and fall — but that gas price volatility also underscores the EV advantage of cost predictability. Electric vehicles offer significant reputational benefits, fuel and maintenance cost savings, support toward meeting corporate climate goals, and safety benefits as well. Sara Forni, director, Clean Vehicles, nonprofit Ceres Taking ESG Into Account
The reputational benefits Forni mentions are a major driver, too, one of ever-growing importance now that more and more people and companies are paying attention to the acronym ESG — environmental, social, and governance. Investors and customers alike want to know how companies are managing risks and opportunities around sustainability, including their energy use and carbon footprint.

"Over the last few years, we've seen an increasing number of companies commit to reduce the impact of their operations on climate change and public health," Forni says. "This includes setting net-zero goals and science-based targets — and more recently, developing climate transition action plans that specifically outline how they're going to meet those goals." Depending on the company, she says, transportation emissions can account for a big chunk of overall operational emissions.

"Transportation activities account for 25 percent of energy use, and in the U.S. it's a little higher," says Courtland Robinson, who works in national business recruitment at Duke Energy. If transportation is tied into a quarter of greenhouse gas emissions, "it should be no surprise that industry is adopting transportation alternatives to meet their ESG frameworks." EVs are the most obvious of those alternatives.

The Effect on the Location Process
As companies gradually electrify their fleets, new considerations are being introduced into the location process. Are some areas better suited for an EV fleet than others? Does this development change any distance considerations when planning distribution centers? Do electric rates move up the list of important location factors? How do state and utility incentive programs fit in? "Every now and again there are events that restructure the hierarchy of the site selection model, assigning new weight to well-established location factors," Robinson says. "We've seen this take place in the office and tech markets because of events such as baby-boomer retirement and introduction of millennials, and the pandemic."

Changing manufacturing skills requirements, data center evolutions, and edge computing have revised the picture, too, he notes. "Fleet electrification has the potential to be another big disruptor."

It should be no surprise that industry is adopting transportation alternatives to meet their ESG frameworks. Courtland Robinson, Duke Energy A Gradual Shift
The transition toward electric fleets is clearly going to be a gradual shift, and the factors that drive the change will vary considerably from one company to another. "When's the right time for adoption? Clearly, there's no one answer for all companies," according to a PwC report titled "U.S. Fleets Want to Go Electric," which explores the potential electrification of American ground transportation fleets that total some eight million vehicles. "Needs and urgency to go electric can differ from company to company — and even from sector to sector."

Many different industries are actively exploring electrification for their fleets, and how they proceed depends on the roles that their fleets fulfill. "Some segments of this fleet will likely experience faster adoption than others over the next decade," the PwC report suggests. "We believe light trucks and vehicles used for last-mile delivery will reach total cost of ownership (TCO) parity with their internal combustion engine counterparts sooner than medium- and heavy-duty trucks."

"Today, and the next couple of years, the primary companies are going to be those who are delivering the last mile," agrees John Blake, a CPA with McCarthy & Co. in New Jersey who specializes in the transportation and logistics sectors. "A lot of that is because of the cost of the batteries and the EVs that are not light-duty. The cost is not quite where it needs to be yet for companies to move in that direction with bigger vehicles."

That would explain why one of the most noteworthy fleet electrifiers right now is Amazon, with a huge fleet of delivery vehicles traveling countless "last miles" every day. The company has pledged to reach zero net carbon by 2040, and along that path it is acquiring as many as 100,000 electric delivery vehicles from Rivian by 2030, with more than a thousand on the road already in numerous cities from Baltimore to Chicago to Seattle to San Diego.

The transition toward electric fleets is clearly going to be a gradual shift, and the factors that drive the change will vary considerably from one company to another. Other big names in delivery also are making moves toward electric. FedEx and DHL, for example, added hundreds of EVs to their fleets last year. Same with utilities such as AT&T, Comcast, Verizon, Duke Energy, and Consumers Energy. School systems are starting to turn to electric buses for delivering kids on those "last miles" between home and the classroom — Maryland's Montgomery County Public Schools is said to have the nation's largest electric bus fleet.

"We're seeing a lot of electric vehicle pilot programs being rolled out across the country by major companies and across vehicle segments, and throughout these deployments it is becoming increasingly clear that electric vehicles can offer a lower total cost of ownership for fleets and cut emissions while doing it," Forni says. "Some of your favorite brands may have already deployed zero-emission vehicles in certain parts of the country or are planning to within the next few years."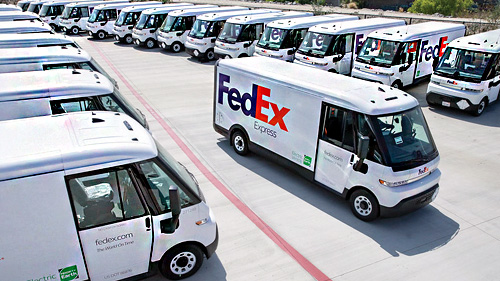 Fedex's goal is to transform its entire parcel pickup and delivery fleet to all-electric, zero-tailpipe emissions vehicles by 2040. Shown here are BrightDrop Zevo 600s, which are currently operating in the Fedex Express network in southern California. Courtesy of FedEx.
Taking the First Step
An organization's most logical first step is to assess the makeup of its fleet, according to guidance from Centrica Business Solutions, a British provider of on-site energy assets. That means checking whether there are EV equivalents that match the vehicles currently in the fleet, what kind of mileage fleet vehicles tally each day, what routes they typically follow, and what kind of dwell time they have.
Smart Columbus, a smart city initiative in central Ohio, recommends getting that kind of information by tapping into fleet telematics, for those fleets that employ the sophisticated drive-cycle data tracking technologies. Telematics data can shed light on routes, travel times, and parking locations.
PwC has similar advice to closely examine fleet economics to gain a good understanding of total cost of ownership, in order to compare with the TCO of EVs. That requires a good understanding of the EV rollout plans of original equipment manufacturers, especially as more options emerge for medium- and heavy-duty trucks.
Considering the Available Incentives
"When building out an electric vehicle transition plan, commercial fleets should really take a holistic approach to identifying priority locations," Forni advises. "Companies will want to consider the incentives that are available to them in each region [in which] they operate."
PwC has similar advice to closely examine fleet economics to gain a good understanding of total cost of ownership, in order to compare with the TCO of EVs. Incentives are available at the federal level, often joined by state and utility incentives. "Some states and utilities have particularly substantial funding available for the purchase or lease of electric vehicles and their infrastructure, and therefore could be considered more ideal locations to pilot an electric fleet, if financial savings are a priority," she says. "Determine the extent of utility fleet electrification support offered in each territory, and of course assess the vehicle segments operated and their use cases at each location."
Blake notes that the federal government invited states to submit plans to support vehicle electrification in order to tap into federal funding. "Most of them have been reviewed and approved. Every state has something, but it's a matter of to what degree."
A lot of states have turned the federal funding into grants or credits for purchasing EVs and charging infrastructure. His state of New Jersey has developed a variety of incentives, including sales tax exemptions, purchase rebates for vehicles and chargers, and deals for developers of multifamily housing that included charging infrastructure.
Power Availability
Then there's the whole question of power availability. It's no secret that key location factors vary significantly depending on the kind of project — the cost and availability of electricity have been a big deal for some projects, less so for others. Fleet electrification is likely to shuffle up the priorities going forward, according to Robinson.
He cites Duke Energy studies suggesting that a fleet of 50 large trucks or tractor-trailers will require about nine megawatts of peak demand power availability for charging — that's about what the Empire State Building requires, he says. Now consider the fact that transportation and logistics operations tend to cluster, for geographic and infrastructure reasons. "Right now, in a lot of areas where we have transportation, warehousing, and large distribution centers, they might be at points in the grid that don't necessarily have capacity," Robinson observes.
He points to a study from National Grid and Hitachi Energy that spotlights the challenges utilities can face as clusters of industrial and logistics operators start upping their demand for power by electrifying fleets. Long-term impacts could be substantial, the study found, with peak loads in some areas increasing by 60 percent.
For some companies pursuing electrification, "the timeline to meet goals might not line up with what is realistic in certain parts of the country," Robinson says. "The issue is not generation, it's distribution — where these companies are relative to available capacity. As they add additional megawatt demand onto their list of wants when it comes to optimal locations, that will begin to kind of change the contenders for transportation and warehousing."
A fleet of EVs is not a slam-dunk for everybody. John Blake, CPA, McCarthy & Co. As they consider locations to venture into electrification, "fleets should also take into account the climate and terrain of each location," Forni says. "I say this because companies might want to avoid initially launching electric vehicles in more dramatic environments where excessive heat or cold could reduce the electric range of the vehicle. In the same vein, some routes are easier to electrify than others due to the daily range required, whether the vehicle is able to return to a depot or employee's home during operation, or how many stops a vehicle needs to make."
Finding Help
Know that there's help out there. The Corporate Electric Vehicle Alliance that Forni represents is all about promoting the electrification of fleets and building the business case for producing a broader array of vehicle types. State and local economic development officials will have insights into regional incentives. And, adds Robinson from Duke Energy, "Companies should contact their utility representatives early on in the process to understand how the utility can support electric fleet adoption over an extended period of time in any given location."
"A fleet of EVs is not a slam-dunk for everybody," Blake observes. Countless changes in processes will be needed, lots of employee training, and significant thought into charging infrastructure. "A lot of thought and planning needs to go into this before making the decision," he explains.
That said, the potential cost benefits can be very attractive. And, Blake adds, "If it's just breaking even but doing the right thing for the environment, that's the altruistic angle."
Steve Kaelble

, Staff Editor

,

Area Development

Steve Kaelble has written for Area Development for more than 30 years. His work has also appeared in numerous other magazines, newspapers, and online publications, as well as broadcast media. He has authored several books and has worked extensively in corporate and internal communications, including creating annual reports. An Indianapolis resident, he holds a bachelor's degree in journalism from Indiana University.