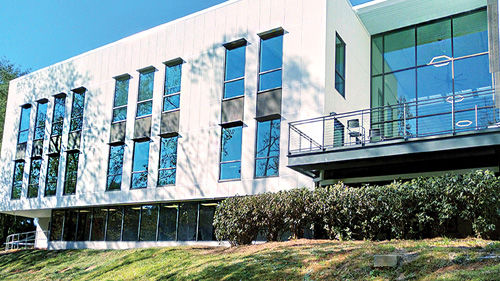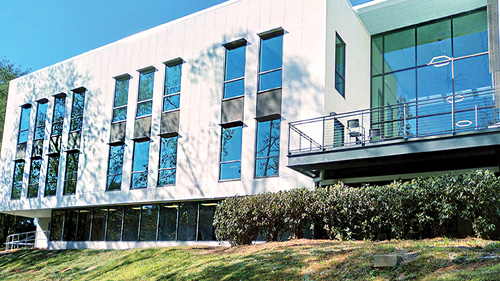 By now, most organizations understand why addressing greenhouse gas (GHG) emissions is so important within their facilities: the real estate sector is responsible for approximately 39 percent of total global emissions. About 11 percent of these emissions come from the materials and processes used to construct buildings, while the rest come from the operations of the buildings themselves and energy generated to power them. So, what is a net zero energy (NZE) facility, and why should business owners care about adding them to their portfolios? Simply put, NZE facilities are energy-efficient buildings that produce at least as much renewable energy as the energy they consume on an annual basis. There are many reasons for business owners to aim for operating NZE facilities that include reduced operating costs, reputational benefits, improved security and resilience, attracting investment and talent, and providing a competitive edge.

As markets are being disrupted with the push toward clean energy transformation, so too must the AEC (architecture, engineering, and construction) industry evolve the way it traditionally designs and delivers built facilities to their clients. No longer can architectural design be siloed from the performance of buildings, where engineers retrofit their systems into a shell; delivering a high-performance machine such as an NZE facility requires an integrated systems approach.

Currently, building owners and organizations adding NZE facilities to their portfolios fall within the "early adopters" category and are considered "the most important people in the diffusion of an innovation" because their decisions are respected as credible and influential; adoption of NZE facilities likely aligns with their organization's mission and values and is a differentiator that demonstrates resiliency with a move toward energy stability.

As markets are being disrupted with the push toward clean energy transformation, so too must the AEC industry evolve the way it traditionally designs and delivers built facilities to their clients. The architectural language is evolving to reflect building health and performance. As Swiss-French architect Le Corbusier famously said, "The house is a machine for living in." Buildings are becoming complex machines — machines that require robust design analysis tools and commissioning to ensure their systems work in concert with one another as intended. Ensuring your design and construction team understands how to deliver an NZE facility is key.

The encouraging news is that there has been a significant increase in designing, delivering, and validating zero energy buildings in the past decade. According to data compiled by the New Buildings Institute, the "total square footage of zero energy buildings has surpassed 62 million, which is a 39 percent jump from 2018. The number of verified zero energy buildings in the U.S. and Canada has more than doubled between 2018 and 2020," which is a compelling signal that designers are gaining expertise for delivering on zero energy targets set by building owners. Additionally, the design community has been working toward creating open source tools and guides to help with the transition, such as the 2030 Palette, a "visual, integrated, and user-driven platform that shares principles, actions, and tools for delivering low-carbon/zero-carbon and adaptive built environments."
Innovation Adoption Lifecycle
A Framework to Follow
Regardless of building typology, there is a simple framework that every project and team should follow when designing and delivering an NZE facility:
Improve energy efficiency: Reduce the amount of energy required to operate a facility through measures by addressing the building envelope and upgrading to energy-efficient systems.

Once energy use has been reduced as much as possible through efficient design and the specification of systems, evaluate opportunities for installing renewable energy systems.

On-site renewable energy generation: Once energy use has been reduced as much as possible through efficient design and the specification of systems, evaluate opportunities for installing renewable energy systems such as solar panels or wind turbines to generate electricity on site. If on-site generation is not an option, off-site generation opportunities will need to be considered.
Energy storage: Consider the storage of excess renewable energy for use during times when the facility's energy demand exceeds its renewable energy generation.
Energy management: Implement systems and strategies to optimize energy use, including monitoring and controlling energy consumption and identifying opportunities for further energy efficiency improvements.
Collaboration: Engage with stakeholders — such as the design/construction team, authorities having jurisdiction, facility managers, employees, and the local community — to evaluate proposed energy conservation solutions and gain support for net zero and renewable energy projects.
Collaborative Planning and Design
Collaboration is the key to delivering a cost-effective NZE facility. There is good body of data that points to the cost neutrality or low premiums of net zero design, such as the ASHRAE Advanced Energy Design Guide updated 02/2019 Medium Office Building and the NBI Getting to Zero Buildings Database.
The recurring theme across case studies indicates that the most effective tool in a building owner's toolbox is early, collaborative planning and design that relies heavily on iterative design analysis tools like energy modeling, whole building lifecycle assessments, and commissioning throughout all stages of a project — from concept to operations.
To visualize a systems-thinking approach, consider a building owner as a composer, their NZE building as the symphony, and the orchestra comprised of stakeholders. Their instruments are the knowledge, perspective, and tools they utilize to perform their part. The conductor arguably has the most important role in the orchestra, as they are responsible for interpreting the composition and conveying its message clearly to the musicians in the orchestra to deliver a cohesive vision of the music. The success of delivering a high-performance NZE facility depends on coordinating or directing the simultaneous performance of disparate building systems, which is what commissioning activities aim to achieve.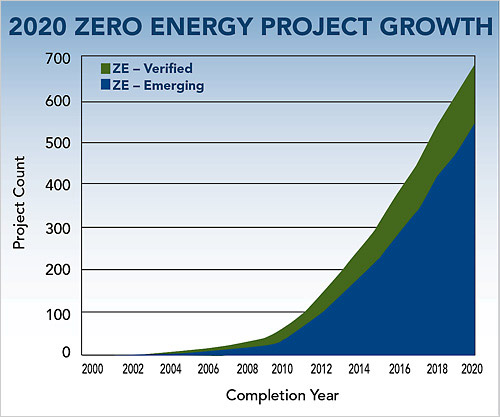 2020 Zero Energy Project Growth
Meeting Net Zero Goals
Apart from selecting a skilled design/construction team and commissioning agent, what else can building owners do to help meet their net zero energy goals?
Take advantage of funding opportunities such as C-PACE, the Database of State Incentives for Renewables & Efficiency, and funding through the Inflation Reduction Act. Incentives are available to help meet NZE goals.
Set specific emissions reduction targets and be clear with expectations. Often, clients will note that they have sustainability and energy efficiency goals but are not specific on what they want to achieve. With many organizations committing to and setting science-based targets, ensure your value chain is aware of your emissions reduction targets and that you, as a valued partner, expect them to help reach those goals. Collaborative partnerships are key.

Involve your design and construction partners as early as possible, ideally at site selection, and most certainly during pre-planning.

Know your number. Consider using available tools like the Energy Star Portfolio Manager and Department of Energy resources to benchmark your energy use across your facilities portfolio.
How do you balance operational efficiency with the capital funding for your project? Look at how investors and internal operations can make CapEx/OpEx more fluid, or extend ROI paybacks for more efficient, sustainable solutions.
How do you ensure NZE targets do not get "value engineered" out of your project? Invest in an integrative design process: involve your design and construction partners as early as possible, ideally at site selection, and most certainly during pre-planning. Adjust schedules to accommodate a front-end loaded planning effort; the investment will be recouped during later stages of design, procurement, and construction with proper planning. Ensure relevant stakeholders are included early in the design process and consider shared risk/reward delivery models that incentivize meeting your NZE targets.
Looking beyond net zero, what else can building owners focus on to make a difference? Addressing resource scarcity through the design of your facilities, reducing embodied carbon within construction materials and processes, designing for resiliency as the climate continues to change, and looking for regenerative opportunities to improve the surrounding ecosystem are qualitative pathways that also improve the economic, health and wellness performance of your facilities. Most importantly, choose progress over perfection every time. There are always opportunities to make improvements when design, construction, and facility operations are approached collaboratively.
Jennifer Breault

, Senior Architect

,

SSOE Group

Jennifer Breault, AIA, NCARB, LEED AP BD+C, is a senior architect at SSOE Group. With over 20 years of experience, she leads the architectural design of new and renovated facilities for a variety of client types, with a current focus on automotive and manufacturing facilities. Additionally, she is responsible for integrating sustainability and heath/wellness into design and construction projects and is the chair of SSOE's Sustainability Design Strategy Group.

Jason Smith

, Senior Project Designer

,

SSOE Group

Jason Smith, Associate AIA, LEED AP, is a senior project designer at SSOE Group. He brings 20 years of experience to the firm with a diversity of roles supporting an architectural portfolio that includes higher education, civic, arts and culture and sports facilities. In addition, Jason has 15 years of experience and a depth of knowledge of sustainable design principles and practices like the LEED green building rating system, Southface Institute's EarthCraft House Multi-Family Residential Certification Program, and advancing into WELL building standards. Jason has also directed North American corporate sustainability and strategic development initiatives for a multi-national company that established its U.S. headquarters in Georgia in 2009.