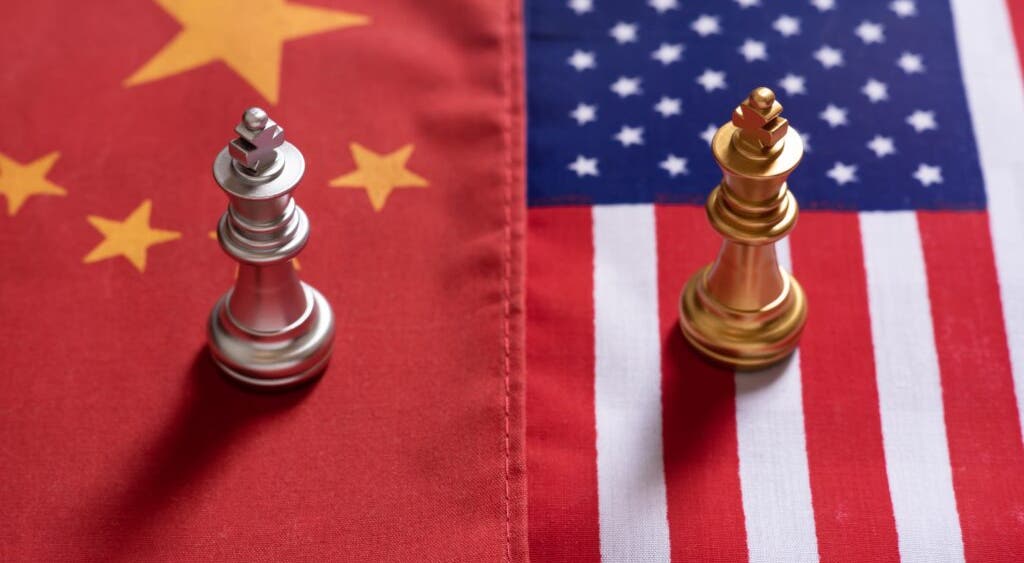 China's Restrictions On Semiconductor Metals, Biden's Cloud Computing Ban: Which Companies Are In The Line Of Fire? – Alibaba Group Holding (NYSE:BABA), NVIDIA (NASDAQ:NVDA), Broadcom (NASDAQ:AVGO), Navitas Semiconductor (NASDAQ:NVTS), Baidu (NASDAQ:BIDU), NXP Semiconductors (NASDAQ:NXPI), Micron Technology (NASDAQ:MU), Coherent (NYSE:COHR), Skyworks Solutions (NASDAQ:SWKS), Lumentum Holdings (NASDAQ:LITE), Infinera (NASDAQ:INFN), Ciena (NYSE:CIEN), Microsoft (NASDAQ:MSFT), Power Integrations (NASDAQ:POWI), Qualcomm (NASDAQ:QCOM), Advanced Micro Devices (NASDAQ:AMD), Tencent Holdings (OTC:TCEHY), IQE (OTC:IQEPF), Wolfspeed (NYSE:WOLF), Qorvo (NASDAQ:QRVO), Amazon.com (NASDAQ:AMZN)
The soft war going on between the U.S. and China took new steps this week as both countries announced measures that could affect each other's access to key technological resources.
The measures are the latest escalation in a battle to dominate key sectors within tech, and are likely to have an effect on companies producing semiconductor equipment as well as those providing cloud computing services.
China's Metal Export Restrictions: Who Stands To Lose?On Monday, China announced new restrictions on the export of two metals that are crucial in the manufacturing of semiconductors, 5G base stations and solar panels, among other devices.
While the metals gallium and germanium are not rare, China is the world's largest producer of both and controls 94% of gallium production.
After the export rules were announced, the price of these metals began to rise, and is likely to affect the cost of goods for companies using them in their supply chain.
Telecommunications equipment Ciena Corporation CIEN and optical transmission equipment company Infinera Corp. INFN could also be affected by the measure, which will require special licenses to acquire Chinese-produced gallium and germanium.
According to a Wells Fargo analysis, the Chinese export controls will directly affect U.S.- and Europe-based manufacturers of semiconductor materials using the metals as well as buyers that use them in the processing of compound semiconductors, which are semiconductors that use two or more semiconducting materials.
Skyworks Solutions Inc SWKS, Qualcomm Inc QCOM and Broadcom Inc AVGO might also be affected by rising prices in germanium as these companies use the element in combination with silicon for the manufacturing of RFFE components used in smartphones.
On Wednesday, it became known the Biden Aaministration is looking into ways it can restrict Chinese access to U.S. cloud-service providers like Amazon AMZN and Microsoft MSFT. These companies would need permission from the U.S. government to provide cloud services to companies in China. The Department of Commerce would oversee the execution of the new restrictions, which are expected to be rolled out in the coming weeks.
Amazon's AWS and Microsoft's Azure dominate the U.S. cloud computing market and both have a presence in China. Yet during the first quarter of 2023, 79% of China's cloud market by expenditure went to Chinese companies Alibaba Cloud BABA, Huawei Cloud, Tencent Cloud TCEHY, and Baidu AI Cloud BIDU, according to China Internet Watch.
Chinese cloud companies could gain what remains of the market if Amazon and Microsoft are unable to avoid Biden's restrictions.
In May, China passed a ban on products from large U.S. chip manufacturer Micron Technology MU, which its CEO called a "significant headwind." 
Biden's CHIPS act, which is seeking to jumpstart the U.S. domestic semiconductor industry, benefits international chip companies that don't expand in China.
Late last year, the Biden administration imposed an embargo on the most powerful chips from Nvidia NVDA and Advanced Micro Devices, Inc. AMD that are crucial for the development of large language models used to train AI systems.
Photo via Shutterstock.
© 2023 Benzinga.com. Benzinga does not provide investment advice. All rights reserved.