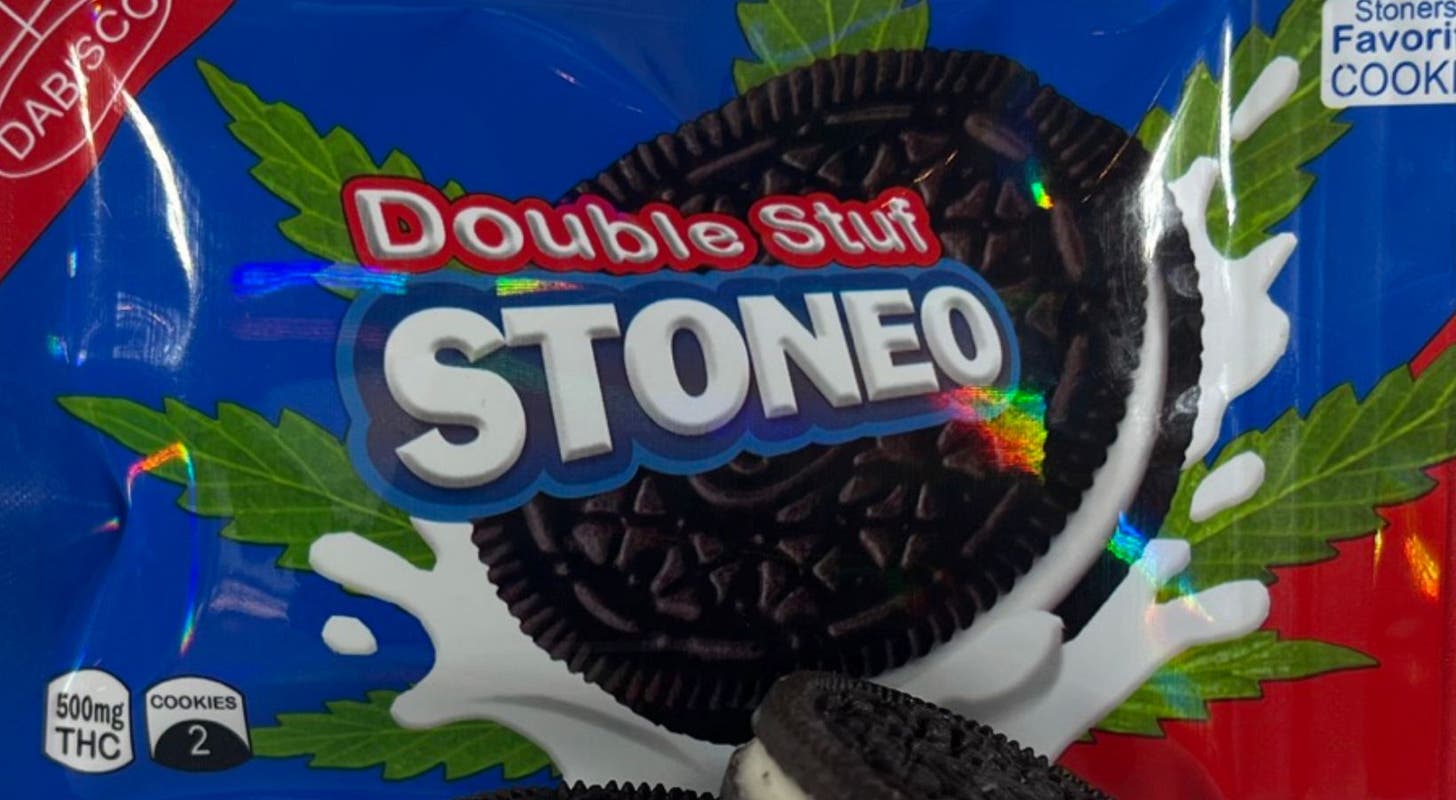 Oreo Copycat 'Stoneos' Told To Cease And Desist As FTC Cracks Down On THC Edibles
To protect children from inadvertently consuming cannabis-infused snacks, the U.S. Federal Trade Commission (FTC) and Food and Drug Administration (FDA) sent cease and desist letters to six marijuana companies.
"Children are more vulnerable than adults to the effects of THC, with many who have been sickened and even hospitalized after eating 'edibles' containing it," said FDA Principal Deputy Commissioner Janet Woodcock, M.D.
Specifically, the letters aim to put a halt to the marketing of these edible Delta-8 THC products that mimic conventional foods, especially those that feature advertising or packaging that could appeal to young children.
See Also: 5 Cannabis Retailers Sued, Connecticut AG Alleges THC Products Are Designed To Attract Kids
Copycat Food Products Containing Delta-8 THCAs reported by Reuters, these companies produce products such as "Stoneos," which closely resemble Oreo cookies, and "Jolly Rancher Gummies Sours," imitating the well-known candy brand.
Moreover, the packaging of these products, combined with the presence of THC labeling, has raised concerns about the potential for children to mistake them for harmless treats.
"Marketing edible THC products that can be easily mistaken by children for regular foods is reckless and illegal," said Samuel Levine, director of the FTC's Bureau of Consumer Protection. "Companies must ensure that their products are marketed safely and responsibly, especially when it comes to protecting the well-being of children."
Among the companies are Delta Munchies, Dr. Smoke LLC (also known as Dr. S LLC), Exclusive Hemp Farms/Oshipt, Nikte's Wholesale LLC, North Carolina Hemp Exchange LLC, and The Haunted Vapor Room.
While one company representative from "Dr. Smoke" denied manufacturing the mentioned products and pledged to remove them from store shelves, the remaining five companies have yet to respond to requests for comment.
The regulatory action comes after the FDA received over 125 reports of adverse effects related to THC consumables between January 2021 and May 2022, with ten specifically mentioning edible products resembling popular foods.
"We're also concerned that adults could unintentionally take them or take a higher dose than expected and suffer serious consequences. This risk is especially dangerous for those who are driving, working, or have other responsibilities. The FDA remains committed to taking action against any company illegally selling regulated products that could pose a risk to public health," Woodcock concluded.
As per data from the Connecticut Poisson Control Center, one in five children who eat marijuana edibles ends up admitted to the hospital. Between 2000 and 2022, there were 189 cases of marijuana consumption in children younger than 19, with most of those cases resulting in an ER visit and one-third in hospital admission.
Now Read: FDA Battles Over CBD Hype Yet Again, This Time Warns Businesses Selling Illegal CBD For Food-Producing Animals
The Benzinga Cannabis Capital Conference, the place where deals get done, is returning to Chicago this Sept 27-28 for its 17th edition. Get your tickets today before prices increase and secure a spot at the epicenter of cannabis investment and branding.
Photo: Courtesy Of LifeLeafMedical.com
© 2023 Benzinga.com. Benzinga does not provide investment advice. All rights reserved.