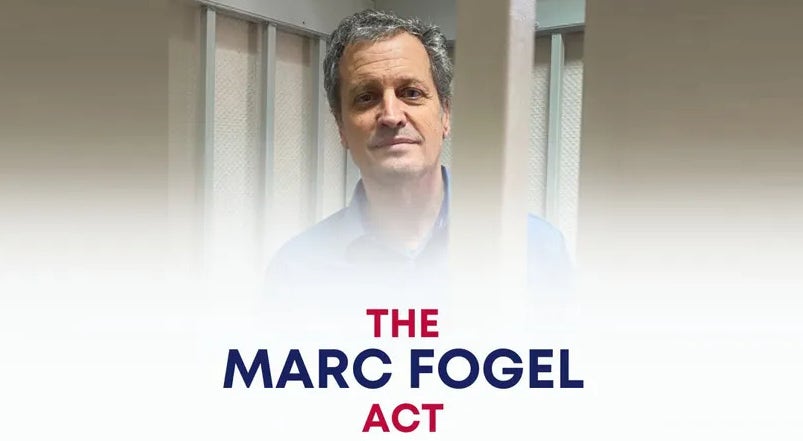 Family Of Imprisoned Teacher In Russia Wants Biden To Classify Him 'Wrongfully Detained'
Marc Fogel, a history teacher, was arrested in August 2021 at Moscow's Sheremetyevo Airport after Russian authorities discovered marijuana in his luggage. 
Sen. Steve Daines (R-MT) has been vociferous in support of Fogel's release from a Russian penal colony, calling him wrongfully detained, a classification the Biden administration has not issued. 
Fogel's family has also tirelessly advocated for the crucial designation of "wrongfully detained" to prioritize his release, following the footsteps of other Americans, like Brittney Griner previously detained in Russia.
See Also: House United In Call For Release Of Americans Detained in Russia, Including Medical Marijuana Patient
Family Advocacy And Congressional SupportIn their pursuit to secure Fogel's release, the family recently met with several U.S. lawmakers, including Daines. Determined to keep the issue in the public eye Marc's sister Anne Fogel said. "We're letting (lawmakers) know we're still here, we're still waiting, we're still pushing," according to States Newsroom.
Sen. Daines echoed their sentiment: "Marc Fogel has been wrongfully detained in Russia since 2021, and I've been working closely with the Fogel family to press the Biden administration to escalate efforts to bring him home as soon as possible."
Efforts are underway to urge Secretary of State Antony Blinken to intervene and designate Fogel as 'wrongfully detained.
Background: Arrest & SentencingAccused of possessing marijuana in contact lens cases and cannabis oil e-cigarette cartridges, Fogel was subsequently convicted of 'large-scale drug smuggling', in June 2022. At present, he is serving his sentence in Rybinsk, located approximately six hours north of Moscow. The severity of the sentence has raised concerns, particularly due to Fogel's age and preexisting health conditions.
Medical Condition and Pain Management: Fogel, who turns 62 this month, suffers from chronic pain resulting from multiple surgeries. He relies on medical marijuana for pain management and refuses to take opioids due to their potential side effects. The deterioration of his health in the penal colony further exacerbates concerns among his loved ones.
The Marc Fogel Act: The family's frustrations with the State Department's lack of response to Fogel's case have led a bipartisan group of Pennsylvania representatives to introduce the Marc Fogel Act. This proposed legislation aims to increase government efforts to secure the release of Americans detained abroad. It would require the State Department to report to Congress within 180 days after reviewing evidence of Americans detained abroad.
Pennsylvania Pressure and Senatorial EffortsPennsylvania's senators and House delegation have been actively supporting Fogel's case, writing letters to the administration to emphasize the urgency of his release. 
GOP Rep. Guy Reschenthaler of Pennsylvania stated, "Marc Fogel meets six of the eleven criteria established by the (Levinson Act) to be designated as wrongfully detained," further emphasizing the need for urgent action.
See Also: Senators Rubio, Manchin, Casey & Six More Urge State Dept. To Classify Marc Fogel 'Wrongfully Detained' In Russia For Cannabis
The Fogel family draws attention to other Americans jailed in Russia who have been granted the "wrongfully detained" designation. This includes WNBA star Brittney Griner, U.S. Marine veterans Trevor Reed and Paul Whelan, and Wall Street Journal reporter Evan Gershkovich. 
While the administration works to secure Fogel's release, President Biden stated, "I'm serious about doing all we can to free Americans who are being illegally held in Russia or anywhere else for that matter. And that process is underway."
Read more here at States Newsroom.
How can expungements for cannabis offenses contribute to addressing social injustices and providing individuals with a fresh start? If you want to know more about this topic consider joining us at the Benzinga Cannabis Capital Conference in Chicago this Sept 27-28 for its 17th edition. Get your tickets today before prices increase and secure a spot at the epicenter of cannabis investment, branding, culture, and where deals get done.
Read Next: Turning 15 Years Of Imprisonment Into Cannabis Advocacy, Luke Scarmazzo Shares His Vision
Image by Benzinga
© 2023 Benzinga.com. Benzinga does not provide investment advice. All rights reserved.