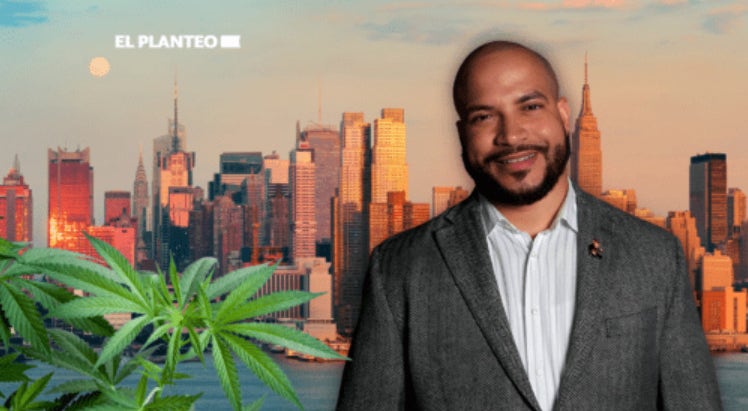 Happy Munkey Cannabis Brand Obtains NY Cannabis Retail License, Will Continue To Foster Social Equity
Happy Munkey, a well-known and established "legacy-to-legal" cannabis brand in New York, has recently been granted one of the additional Conditional Adult-Use Retail Dispensary (CAURD) licenses to open an adult-use cannabis dispensary.
The New York State Cannabis Control Board (NYCCB) met Wednesday and decided to add 212 additional retail dispensary licenses as part of its much-delayed rollout of legal cannabis. This brings the number of licenses to 463.
This significant achievement marks a major milestone for Happy Munkey and solidifies its position as a key player in NY's evolving cannabis industry.
"We are honored to receive one of the CAURD licenses in New York," Happy Munkey CEO and co-founder Vladimir Bautista said in a statement procured exclusively by Benzinga. "As a legacy business with strong roots on the New York streets and well over two decades of experience in the cannabis industry, we are excited to transition our extensive knowledge to New York's legal cannabis market." 
See Also: New York To Add 212 Retail Cannabis Licenses, Industry Insider's Stinging Response 'Slow Rollout Wasted Millions'
Happy Munkey's Commitment To Cannabis Culture & Advocacy
Happy Munkey has been at the forefront of cannabis culture and advocacy, and this achievement allows them to play a vital role in building a diverse, equitable and accessible industry in New York.
"Happy Munkey stands at the intersection of cannabis culture and advocacy, and we are excited to play a critical role in building a diverse, equitable, and accessible industry. We are determined to work with state regulators to swiftly open our dispensary to bring New Yorkers high-quality cannabis products at affordable prices," Bautista said.
With the CAURD license, Happy Munkey can finally bring its extensive experience and expertise into the legal cannabis landscape.
See Also: Latinx Cannabis Community Unites In NYC To Advocate For Legalization In The Dominican Republic
Additionally, its commitment aligns with the goals of the CAURD program, which aims to address the social and economic injustices caused by the war on drugs by promoting diversity and inclusion in the legal cannabis market.
See Also: Latino Influence: Meet Vladimir Bautista, Key Figure In The Legalization Of Cannabis In New York
NY Supporting Social Equity ApplicantsIn an effort to promote participation in the marijuana industry by individuals disproportionately impacted by marijuana criminalization, city officials recently announced the launch of the Cannabis NYC Loan Fund.
The New York City Economic Development Corporation (NYCEDC) posted a request for proposal (RFP) seeking lenders and an administrator for the fund, which aims to provide low-cost financing to social equity applicants entering the cannabis market.
Are you interested in delving into social equity opportunities to enter the cannabis industry, not just in New York but in other states? Consider joining us at the Benzinga Cannabis Capital Conference in Chicago this Sept 27-28 for its 17th edition. Get your tickets today before prices increase and secure a spot at the epicenter of cannabis investment, branding, culture, and where deals get done.
Read Next: NYC Marijuana Businesses Get A Tax Break As New Cannabis Czar Focuses On Social Equity
Image by El Planteo
© 2023 Benzinga.com. Benzinga does not provide investment advice. All rights reserved.