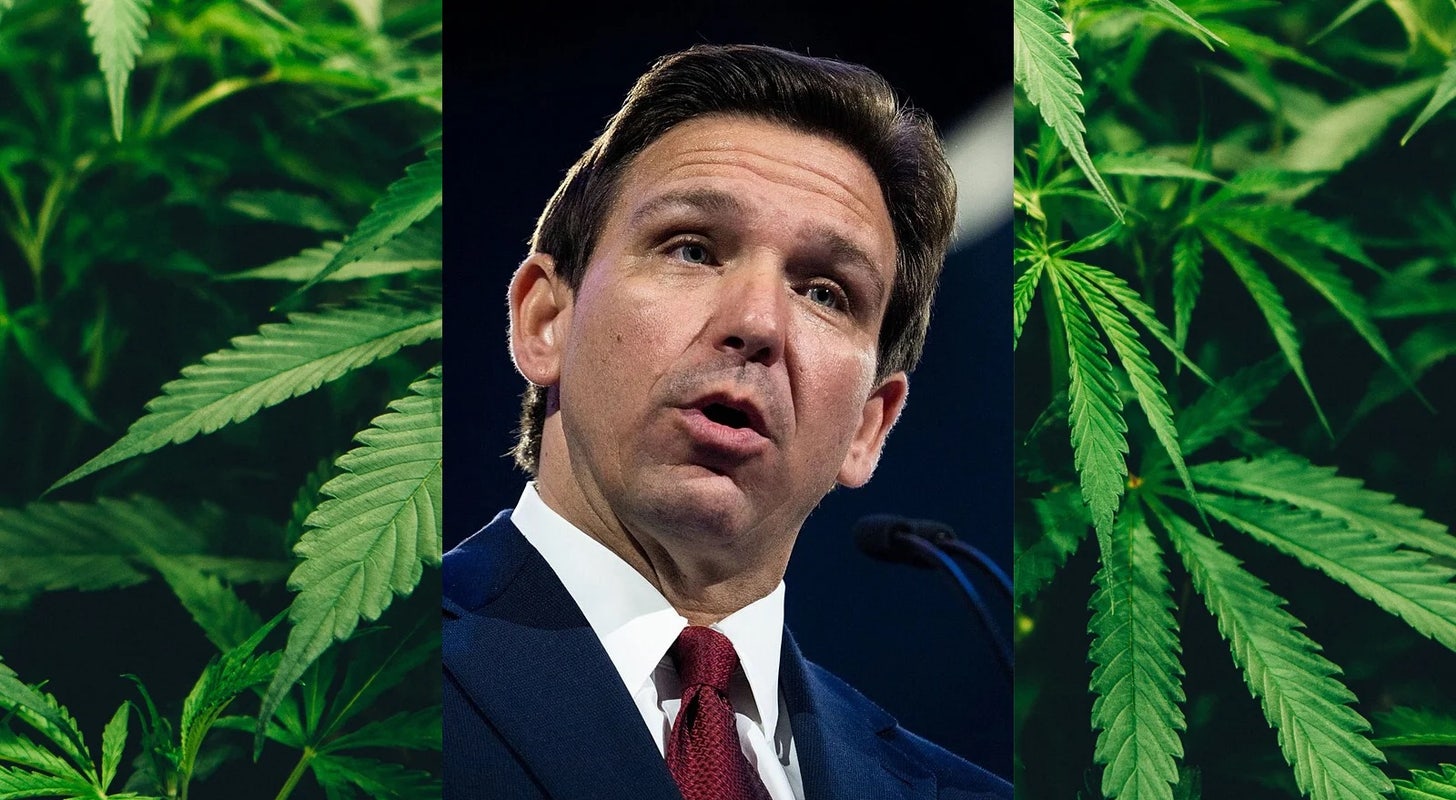 Ron DeSantis And Florida Lawmakers Estimate Legal Weed Will Generate At Least $500M In Tax Revenue – Trulieve Cannabis (OTC:TCNNF)
The Florida legislature and office of Gov. Ron DeSantis estimate that legalizing cannabis could generate between $195.6 million and $431.3 million in annual sales tax revenue.
A legalization initiative is expected to go to the voters in 2024, that is if the Supreme Court and Attorney General Ashley Moody don't manage to push the initiative off the ballot. 
Marijuana Moment (MM), which reported the story, pointed out that the nearly half-billion dollars in sales tax could be far higher.   
A financial impact statement, which assumes that recreational marijuana sales would begin in the 2025-2026 fiscal year, was prepared by the Financial Impact Estimating Conference (FIEC) comprised of economists representing the legislature, state agencies and the governor's office.
The statement does not account for the potential revenue that could be generated from an excise tax on cannabis, as this would require legislative action. It also does not take into criminal justice-related spending or public health.
"Given the mixed findings in the academic and technical literature and the likelihood that savings and increased costs will both result over time, the net impact is indeterminate," the report noted, per MM.
Meanwhile, Smart & Safe Florida collected more than enough signatures to get the legalization initiative on the ballot.
AG Moody Vs. Trulieve And DeSantis Will Spurn Legalization If President
The legalization movement received significant financial support from Florida-based Trulieve Cannabis Corp. TCNNF, which has contributed at least $39 million to the Smart & Safe Florida campaign to date. This apparently irks AG Moody who publicly accused Trulieve CEO Kim Rivers of misrepresenting the ballot proposal. Moody said the initiative is misleading because rather than expanding cannabis access, robust competition and therefore lower prices, the "proposed amendment would not change that" and that by limiting individual's possession to three ounces "the amendment aids corporate interests like Trulieve in entrenching their monopoly of the marijuana market." 
Meanwhile, DeSantis confirmed that if elected president, he would not support the federal decriminalization of cannabis.
Read full story at Marijuana Moment.
Want to talk more about the politics of cannabis, which never seem to end, join us at the Benzinga Cannabis Capital Conference in Chicago Sept 27-28.  Get your tickets today before prices increase and secure a spot at the epicenter of cannabis investment and branding.
© 2023 Benzinga.com. Benzinga does not provide investment advice. All rights reserved.