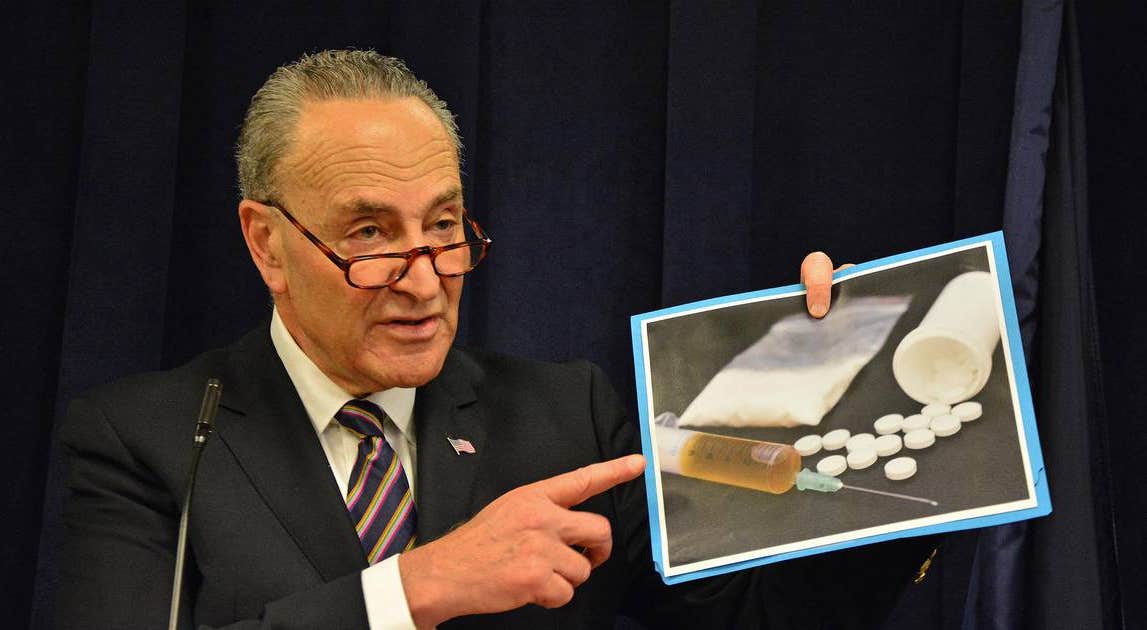 Schumer Calls for Sanctions On China Over Fentanyl Production In Bill Declaring Trafficking A 'National Emergency'
Senate Majority Leader Chuck Schumer is pushing to include a bipartisan amendment to sanction China over its role in producing fentanyl. The measure would be attached to a must-pass defense bill that will give President Biden the power to direct law enforcement to seize money from drug traffickers and sanction drug cartels and criminal gangs that traffic fentanyl. 
"I will push an amendment – bipartisan – into the defense bill that will include major fentanyl stopping and sanction empowering legislation, and we will bring that bill to the floor this week," Schumer told a news conference in New York, reported WNYC.
Schumer said the amendment, proposed by Ohio Sen. Sherrod Brown (D) and Sen. Tim Scott (R-SC), would authorize the White House to declare fentanyl trafficking a national emergency, opening the door to sanctions.
"This will really get tough with them and we will make them clamp down on the fentanyl coming to the United States," said Schumer who blamed China for the bulk of the fentanyl deaths in the U.S. He said the synthetic opioid is produced in China "with the total acceptance and acquiescence of the Chinese government."
"For years, Chinese laboratories have been cooking up formulas of death and freely trafficking lethal fentanyl across New York, and to many other places across America, where it is killing tens of thousands of people — and it has to stop," Schumer said in a Sunday statement. 
In related news, Brian Nelson of the Treasury Dept. traveled to the southern border with Mexico last week where he met with law enforcement representatives, private financial institutions and local officials to discuss how Treasury's tools and info can be used to disrupt the supply chain of fentanyl from Mexico.
Leading Cause Of Drug Overdose Deaths In U.S.
In 2021, there were over 70,600 drug overdose deaths in the US, and fentanyl was involved in over 67,300 of those deaths. This represents a 26% increase in fentanyl-related deaths from 2020.
© 2023 Benzinga.com. Benzinga does not provide investment advice. All rights reserved.