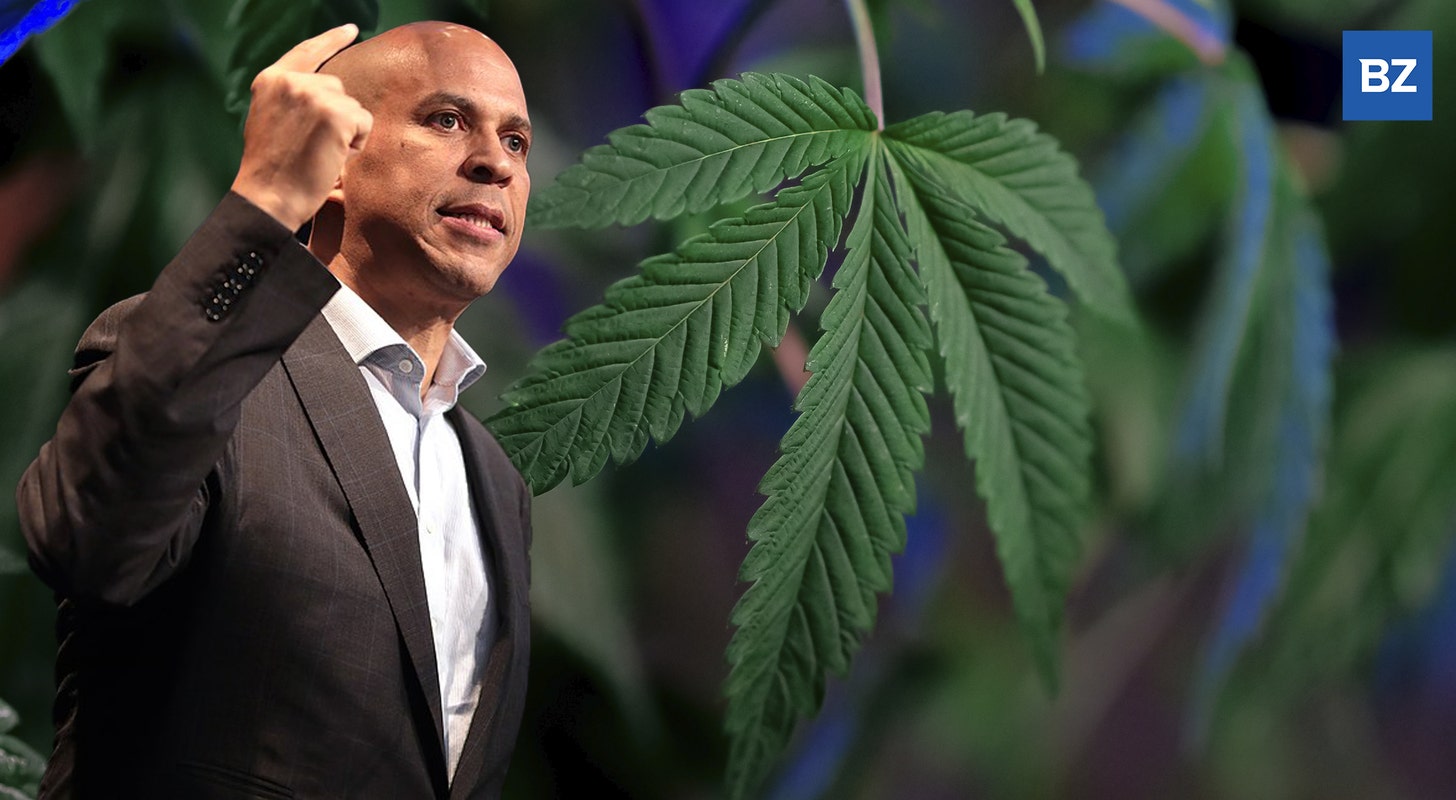 Sen. Cory Booker Calls Out DOJ's Double-Standard On Weed Use In Reaction To Hunter Biden Plea Deal
New Jersey Senator Cory Booker used a recent appearance on CNN's "Who's Talking to Chris Wallace" to shed light on cannabis-related enforcement disparities.
The U.S. judicial system, the Democrat said, is allowing high-level officials to admit to past cannabis use with no repercussion while there remains a stark double standard under which use of marijuana by those less privileged is strictly punished.
The response came after Booker was asked to comment on the news that the Justice Department proposed Hunter Biden, President Joe Biden's son, a settlement under which he must accept responsibility for two tax evasion charges and enter a pretrial diversion agreement on a firearm possession charge.
In return, Hunter Biden would be absolved from the accusation of having lied about his illegal drug use when completing the U.S. Bureau of Alcohol, Tobacco, Firearms and Explosives (ATF) form to buy a gun.
The case revolves around a 2018 handgun purchase by Hunter Biden during a period when he admitted to being a regular user of crack cocaine.
"Look, you're talking to a guy who has seen the worst of the criminal justice system in America — where you see a two-tier system," Booker said. "If you're a Congressperson, a Senator or a President, you can admit to using marijuana, but we are a nation that has been arresting young, low-income Black and brown people—literally thousands in America who can't get jobs—for doing things that, at least, four presidents have admitted to doing."
Booker remains optimistic about seeing marijuana decriminalized at the federal level and getting the cannabis banking bill across the finish line. He is also among those who are making sure that cannabis reform remains equitable.
The BackgroundCiting a recent federal court ruling on gun rights for individuals who consume marijuana, attorneys representing Hunter Biden contended in June that any charges linked to allegations of false statements regarding drug use on a federal firearms purchase form should be null and void.
They pointed to the ongoing scrutiny surrounding the constitutionality of the drug question itself, particularly in relation to cannabis. Notably, they cited a recent ruling in the U.S. District Court in Oklahoma, which declared the ban on marijuana consumers purchasing and possessing firearms was unconstitutional.
The Benzinga Cannabis Capital Conference, the place where deals get done, is returning to Chicago this Sept 27-28 for its 17th edition. Get your tickets today before prices increase and secure a spot at the epicenter of cannabis investment and branding.
Photo: Courtesy of Gage Skidmore by Commons and Kindel Media by Pexels
© 2023 Benzinga.com. Benzinga does not provide investment advice. All rights reserved.