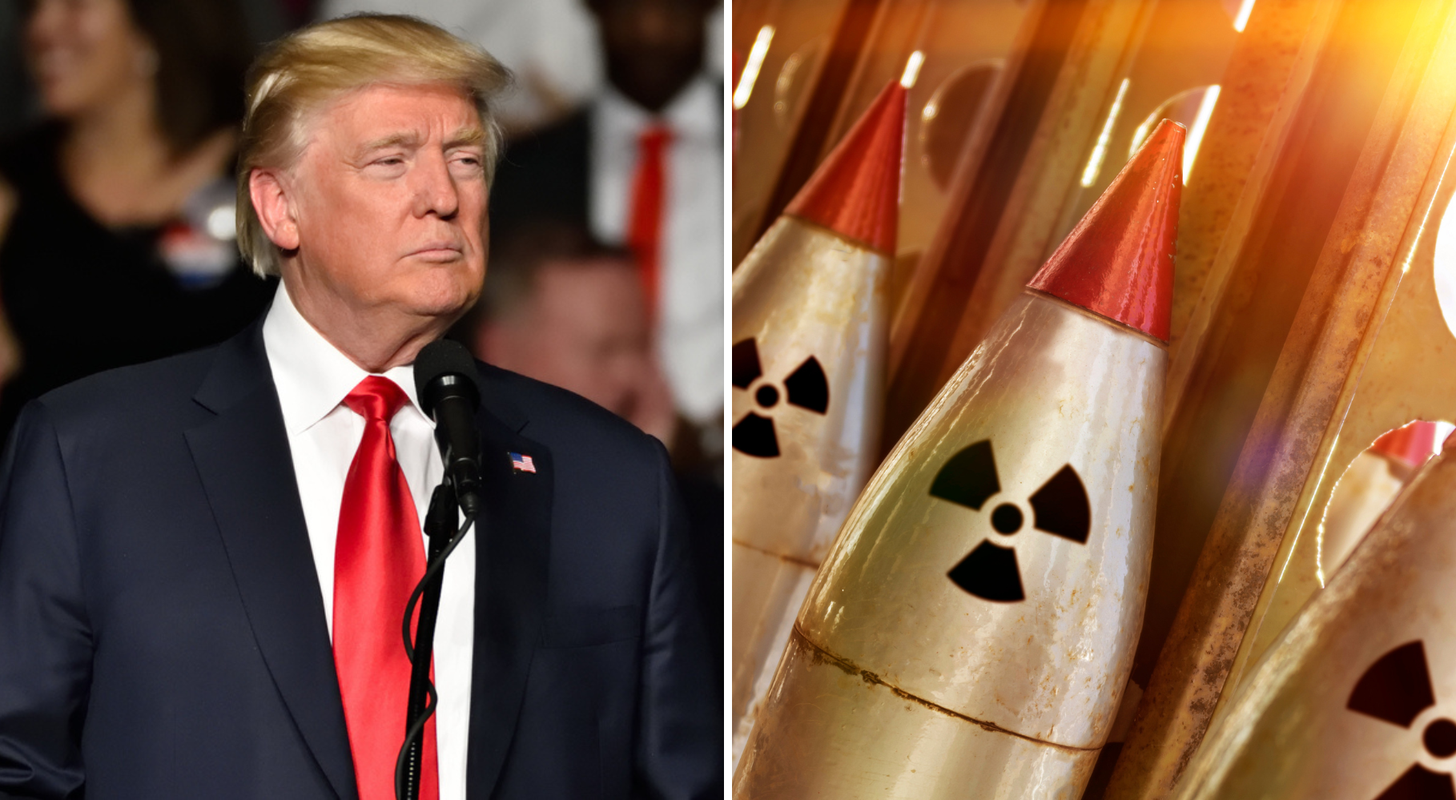 Donald Trump's Dangerous Rhetoric Prompted First-Ever Nuclear Strike Preparations, According To Former Official
During the first year of former President Donald Trump's time in the White House, the possibility of nuclear war loomed, an event that the 45th president preemptively denied during an interview in April.
Despite Trump's denying the bombshell revelation before the allegations were made public, his rhetoric against Kim Jong Un and his threats toward North Korea during 2017 terrified top Department of Homeland Security (DHS) officials, who held meetings in preparation for a nuclear attack on U.S. soil, according to POLITICO, which referenced an excerpt it obtained from the book, "Blowback: A Warning to Save Democracy from the Next Trump."
"One day, he threatened North Korea 'with fire, fury and frankly power the likes of which this world has never seen before.' He almost seemed to welcome a nuclear conflict, which terrified us," author of the book, Miles Taylor wrote.
The Details: Taylor, who was serving as intelligence and counter-threats counselor to the secretary of Homeland Security that year, describes serious concerns amongst top officials following a series of ballistic missile threats carried out by the secretive nation and Trump's responses.
"In the national security world, anything having to do with nuclear weapons is handled with extreme sensitivity — well planned, carefully scripted — yet we didn't know what Trump might say at any given moment," Taylor wrote, according to the publication.
What's More: Following North Korea's test of a ballistic missile that could reach the continental U.S. in November 2017, fear increased within the U.S. government. While top officials scrambled to prepare for the possibility of a nuclear war, Trump was focused on the status of legal protections for Hondurans, according to the outlet.
"Although a nuclear-capable missile had just ripped through the skies, the president's mind was on the border," Taylor wrote in the book, according to Politico.
After a meeting in the situation room that year, then-Defense Secretary James Mattis approached Taylor, according to the author.
"'You all need to prepare like we're going to war,' he warned. Mattis was serious. DHS should assume the homeland was in mortal danger," Taylor wrote in the book, which is set to be released July 18, according to the outlet.
Then, in an event Taylor says has never happened before, DHS officials met to plan for a possible nuclear attack.
"We convened every top leader in DHS to discuss the brewing crisis," Taylor says, according to the publication. "Experts walked through various scenarios of a nuclear strike on the U.S. homeland, dusted off response plans, and outlined best-case scenarios which nevertheless sounded horrifically grim. I cannot provide the details, but I walked out of those meetings genuinely worried about the safety of the country. In my view, the department was unprepared for the type of nuclear conflict Trump might foment."
Read Next: 'Dead Frog' DeSantis' Slipping Polls Against Trump Predicted By Gavin Newsom
Photos: Shutterstock
© 2023 Benzinga.com. Benzinga does not provide investment advice. All rights reserved.