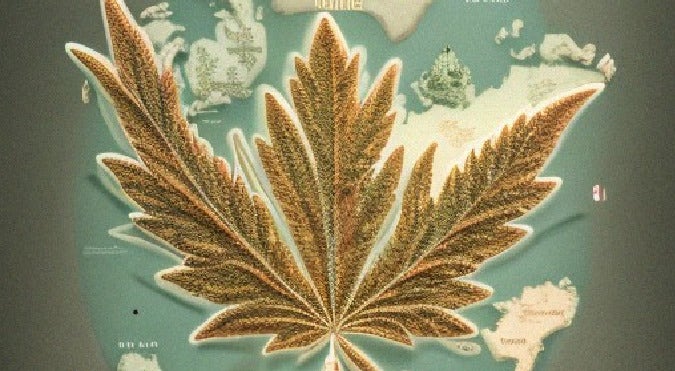 Global Cannabis: UK's Prescription Shift, Luxembourg's Adult-Use, Czech Regulations & Canada's Random Tests
Join us on a trip around the globe as we explore the UK's potential shift towards GP-prescribed medical cannabis, Canada's novel initiative to compare legal and illegal cannabis products, Luxembourg's landmark personal use marijuana law and the Czech Republic's decision to regulate potent synthetics from CBD. Uncover how these pivotal changes are poised to affect public health, crime rates, industry standards and personal freedom in our comprehensive roundup of recent cannabis-related developments.
UK Report On Medical Cannabis PrescriptionA new report from the Cannabis Industry Council (CIC) suggests that allowing General Practitioners (GPs) to prescribe medical cannabis in the UK can help reduce UK National Health Service (NHS) waiting lists and lower crime rates.
Dr. Sunil Arora, co-chair of the CIC Prescription Cannabis Working Group, stated, "Allowing GPs to prescribe would expand patient access, reduce NHS waiting lists, and help cut crime,"
The report also cites international examples from Australia, Germany and Denmark, where GPs can prescribe medical cannabis, resulting in higher prescription rates and reduced stigma. Currently, only specialist medical practitioners are authorized to prescribe medical cannabis in the UK, leading to limited patient access.
See Also: Medical Marijuana Milestone In The UK: Celadon Pharmaceuticals Becomes First Company With License To Sell In Britain
Canada Cannabis Data ProgramHealth Canada is launching a new initiative to randomly buy and test both legal and illegal cannabis products to analyze and compare them. The program aims to gather data on THC inflation, a concern within the Canadian cannabis industry, reported MjBizDaily.
According to an official announcement, the collected data will be summarized and published without disclosing product or brand names. Moreover, "if the program identifies deficiencies with legal products they analyze," Health Canada will take "appropriate compliance and enforcement actions to mitigate health and safety risks if necessary."
See Also: Cannabis Sales In Canada Drop By 20% While Pre-Roll Products Increase Market Share
Luxembourg Personal Use Marijuana LawStarting on Friday, a new law in Luxembourg permits adults to possess and grow limited amounts of marijuana for personal use. "On July 17, 2023, the law (…) concerning the sale of medicinal substances and the fight against drug addiction, providing for the legalization of the domestic cultivation of cannabis under certain conditions, has been published in the Official Journal. It will enter into force on(…) Friday, July 21, 2023," per an official statement.
This law, proposed in 2021, allows individuals to possess up to three grams of cannabis and cultivate up to four plants within their private residences. As reported by Marijuana Moment, penalties will be imposed for exceeding the permitted limits, including potential prison sentences. Minister of Justice Sam Tanson expressed the need for a different approach to cannabis, seeing criminalization as "an absolute failure."
See Also: Another EU Country Legalizes Weed, Top Gov. Official Calls Cannabis Criminalization 'A Failure'
CBD Synthetics Regulated by The Czech GovernmentThe Czech government will regulate, rather than ban, synthetically produced "high" compounds from hemp-derived CBD. A proposed amendment restricts products such as Hexahydrocannabinol (HHC), a hydrogenated derivative of tetrahydrocannabinol (THC). Selling HHC to adults over 18 will now require supervision; sale through vending machines is prohibited, same as advertising, per Hemp Today.
The move comes after initial plans to ban such products were abandoned in favor of clearer rules. The Czech Republic was one of several EU countries with widely available HHC products, leading to health warnings. Kratom will also be regulated but not banned, despite previous considerations of a ban.
See Also: Partnership Will Supply Medical Cannabis Extracts To Czech Republic & Switzerland
Cannabis Capital Conference In ChicagoIf you want to know more about the latest cannabis developments around the globe, consider joining us at the Benzinga Cannabis Capital Conference in Chicago this Sept 27-28. Get your tickets today before prices go up and secure a spot at the epicenter of cannabis investment, retail, culture, and branding.
Read Next: Gigi Hadid's Arrest: A Cautionary Tale Of Traveling With Weed? Or Proof Of Privilege?
Image generated with Free AI Art Generator // Image license: CC0
© 2023 Benzinga.com. Benzinga does not provide investment advice. All rights reserved.