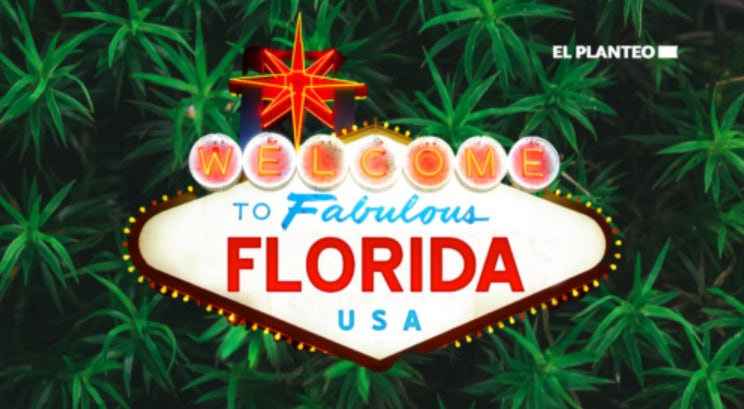 The Fight For Florida's Green Gold: Will 2024 See Marijuana Legalized? – Trulieve Cannabis (OTC:TCNNF)
A game-changing initiative is being played out in Florida's legal sphere.
Smart & Safe Florida, with substantial backing from Florida-based Trulieve Cannabis Corp. TRUL TCNNF and supporters including the Cato Institute and Medical Marijuana Business Association of Florida, aim to put marijuana legalization on the state's 2024 ballot.
However, the initiative faces opposition from Florida Attorney General Ashley Moody, whose office insists the measure misleads voters and violates the state's single-subject rule for ballot measures. In this case, Floridians would have to vote for two separate initiatives — one to decriminalize, followed by one to legalize.
See Also: Florida AG Goes After Trulieve CEO As She Lays Out Opposition To Marijuana Legalization Ballot Measure
Smart & Safe criticized Moody for seeking to discard established legal precedents.
"The Attorney General's lead argument is that [Florida's Supreme Court] should discard three of its recent precedents—precedents that it expressly encouraged ballot sponsors to use as blueprints for drafting future initiatives," stated Smart & Safe Florida, the campaign at the forefront of a push for marijuana legalization in the Sunshine State.
Moody, along with other opponents, submitted briefs challenging Smart & Safe's initiative. In response, Smart & Safe Florida filed a 99-page brief concluding that the court "should issue an opinion advising that the Initiative satisfies the legal requirements to be placed on the ballot."
See Also: Florida Cannabis Activists Gather Enough Signatures To Put Legalization On 2024 Ballot
Furthermore, the Medical Marijuana Business Association of Florida, has rebutted Moodyl's argument that the initiative's summary is misleading, calling this claim speculative and inconsistent with Florida's historical approach to regulating marijuana.
"The ballot title and summary of the Proposed Amendment are not misleading and, as such, the initiative should be approved for the ballot," the Association said.
Despite Moody's objections, the campaign remains optimistic that the court will side with them. The campaign had to meet a stringent set of requirements, including collecting valid signatures from at least eight percent of the registered voters in a minimum of 14 of the state's 28 congressional districts. According to recently updated state data, they've done just that.
Smart & Safe Florida Marijuana Legalization InitiativeThe initiative, if approved, would see a significant shift in Florida's legal landscape, allowing adults 21 and over to purchase and possess up to an ounce of cannabis, of which only five grams could be a marijuana concentrate product.
It also outlines that medical cannabis dispensaries could expand their business to non-medical adults. However, the proposal has been criticized for excluding equity provisions, such as expungements for those with prior cannabis convictions.
Financial analysts anticipate a potential windfall for the state, with the marijuana legalization initiative expected to generate between $195.6 million and $431.3 million in new sales tax revenue annually.
Such figures could rise substantially if lawmakers imposed an additional excise tax on cannabis transactions, mirroring the strategy of other legalized states. These financial prospects, combined with a recent poll indicating 70% support for legalizing marijuana among Florida voters, demonstrate a robust potential for change in the Sunshine State's stance on cannabis.
Read the full story at Marijuana Moment.
Want to talk more about the politics of cannabis, which never seem to end, join us at the Benzinga Cannabis Capital Conference in Chicago Sept 27-28. Get your tickets today before prices increase and secure a spot at the epicenter of cannabis investment and branding.
Read Next: Ron DeSantis Bans Medical Marijuana In Sober Living & Recovery Facilities Despite Doctor's Recommendation
Image by El Planteo
© 2023 Benzinga.com. Benzinga does not provide investment advice. All rights reserved.